It's that time of the year where good cheer, and friends abide. But if you live in a tiny space, how do you make room for all your guests? Don't fret, we've got you covered with these 8 Thanksgiving Day space saving tips.
Tip 1. Say hello to the space saving bench
If big, bulky chairs are occupying more than their fair share of space in your dining room, consider using a bench along one side of the table to accommodate one or two additional guests. It's a family holiday, after all; closeness is fitting.
Tip 2. Don't be afraid of mismatched seating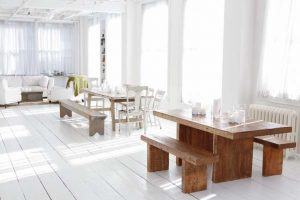 Don't go crazy trying to secure enough seating for everyone. Chances are you won't find all of what you need in one place — and if you do, you're probably not going to want to pay the hefty price tag to buy it (and then store it). Instead, be practical. Use your couch, your loveseat, and bistro chairs, and create clumps of seating. Rid yourself of the idea that you'll all fit together at one long table.
Tip 3. Extend that table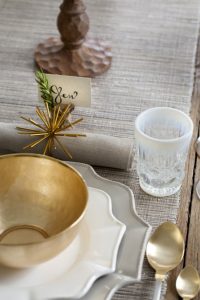 Most dining tables are made in standard sizes of 36″W x 72″L with one leaf. You can extend the width one foot and the length an extra 24 inches by simply placing a sheet of standard plywood on top. With a tablecloth draped over the surface, you won't know the difference.
Tip 4. Stick to your guest list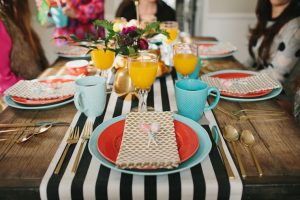 Just say, "No." When you're dealing with minute square-footage, you don't have the luxury of making room for everyone and their mom (literally). Keep the guest list intimate. Meet all the extras for drinks afterwards.
Tip 5. Rethink your space
If your extended table is a tight fit for your dining room, brainstorm ways to position it differently. If you position the table diagonally, it might give guests on the end a little more breathing room, or even free up space for a couple more chairs
Tip 6. Put your plans on paper first
Before you so much as think of inviting anyone, put your plans to paper — and get comfortable with the idea that you're going to have to try a lot of different options before finding a layout (and a head count) that you're comfortable with. Just keep in mind that there should always be a clear "route" to the kitchen and to the bathroom from no matter where your guests are seated.
Tip 7. Double up on the dinner buffet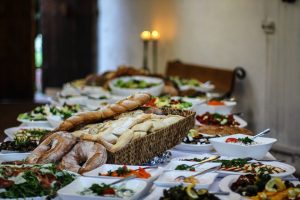 Create multiple buffets, and reserve a few dishes for the tables. That way you keep hungry guests happy. When possible have a buffet that guests can access from multiple sides to limit the time waiting in line.
Tip 8. Less is more
If the dining room is filled with non-essentials—clear them out before you start decorating and arranging. This will make the room seem more spacious, and a spacious room is more comfortable. Also, removing unnecessary furniture will place emphasis on the table, which seems only right. If you don't know where to store your stuff, contact an on-demand storage company like Stow Simple. They'll pick up that extra chair or box of stuff for free and deliver it back on-demand. Storage prices start at $25/mo.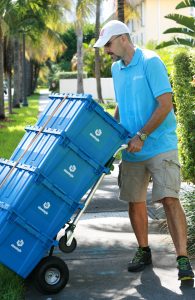 Images: The Kitchn; Flower Factor, Phil Dragash, Brooklyn Bride,Vintage Revivals, fyrefiendJay Vice/Flickr; The Effortless Chic (3); A Beautiful Mess