Father's Day is just around the corner, but before you panic, take a look at some unique last-minute gift options that will show your dad just how special he is.
For the dad who wants it all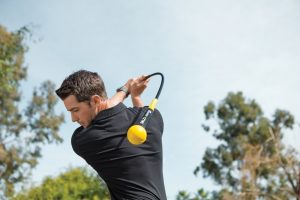 Every dad wants the perfect golf game. With the help of the SKLZ Gold Flex Trainer, your dad will shine brighter than ever. Use it for practice to help gain strength and skill or as a low-impact stretch before a game. SKLZ is made of high quality, durable material so it will last for years.
For the dad who (sometimes) loses it all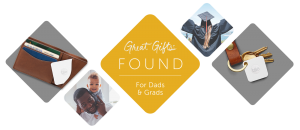 If dad is a little forgetful about where he puts his keys or remote, then Tile Mate is the gift for him. A thin tile with a year-long battery and Bluetooth technology can be attached to most items including keys, wallet, remote, or briefcase. Locate the item by sound, use the Tile app to see its last location, or even work with the Tile community to find your item. Order at Tile Mate for free shipping and gift box.
For the dad who has it all (but needs more room to put it)
Schlepp free storage from Stow Simple! Making room for the perfect man cave has never been easier! Other storage units require you to find a large vehicle and the time to drive to their location and pack it all in a unit yourself, but not Stow Simple! Set up an appointment and Stow Simple will deliver high quality storage bins for you to pack, then they will return, for free, to take your bins and other items to their storage location. If you need help remembering what you packed, it's no problem for Stow Simple to upload a picture of your bin to help remind you. When you need something from storage, set up an appointment online or call the office for item returns in as little as 24 hours. Specific items are delivered right to your door! Simply perfect for the dad who has it all! With storage solutions starting as low as $25/month, you won't break the bank getting dad some of his space back.
For the dad who wastes not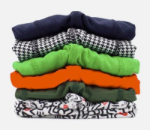 Get your practical dad a gift he will not put to waste. While underwear isn't a gift you normally show off, your dad just might when he relaxes in the special blend of super soft and uniquely printed fabric from MeUndies. This online-only company offers free shipping so you can order today to send dad a gift he'll use every day.
For the Star Wars loving dad (under $10)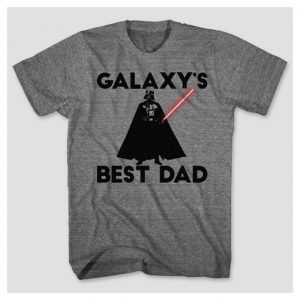 Show your dad how you feel with this $9.99 t-shirt from Target. Not only may it spark a laugh, but this t-shirt is also sure to make him smile every time he puts it on.
For the perfect dad
No matter the gift you choose, add a card to tell dad how much his love and support through the years has meant to you. And when he saves all those cards, call Stow Simple to help store them.