In 2001, Dylan Lauren pioneered the creation of the world's largest candy emporium and lifestyle brand, Dylan's Candy Bar. She has successfully grown the business into a candy empire with flagship locations in New York, Los Angeles and Chicago. Three years ago, she brought the colorful Wonka-like setting filled with over 5,000 confections to South Beach.
I recently caught up with the entrepreneur, new mother of two, and my favorite college roommate to unwrap some little known tidbits about Dylan Lauren.
SC: Hi, Dylan. I can't get over how adorable Kingsley Rainbow and Cooper Blue are. Traveling with kids to your different flagship stores has probably made you rethink how you pack, right?
DL: Definitely. I never realized how much stuff you need when you travel with kids. It's crazy.
SC: I know firsthand that you don't slow down. You're like the Energizer bunny. How has having kids affected your ability to travel?
DL: Lugging stuff from place to place while carrying two babies can be challenging. When I travel to Miami I like for my Twinkies (Dylan's twins) to have things that are familiar to them. I also don't want to take a zillion suitcases packed with toys and their things. It's so nice to push a button and have bins filled with their favorites delivered to me at whatever Miami Beach hotel I'm staying at.
That's why your service fills a huge need for parents like me. And I'm not just saying that because we're friends!
SC: Thanks. I'm glad to have helped.
DL: It's funny, but the Twinkies love Stow Simple too. They love to drum on the bin. I put them inside and push them around as if its their own car. We  have fun moving it from room to room and the kids love playing in it.
SC: Speaking of the Stow Simple bin. Can you tell us a little about what you store in them?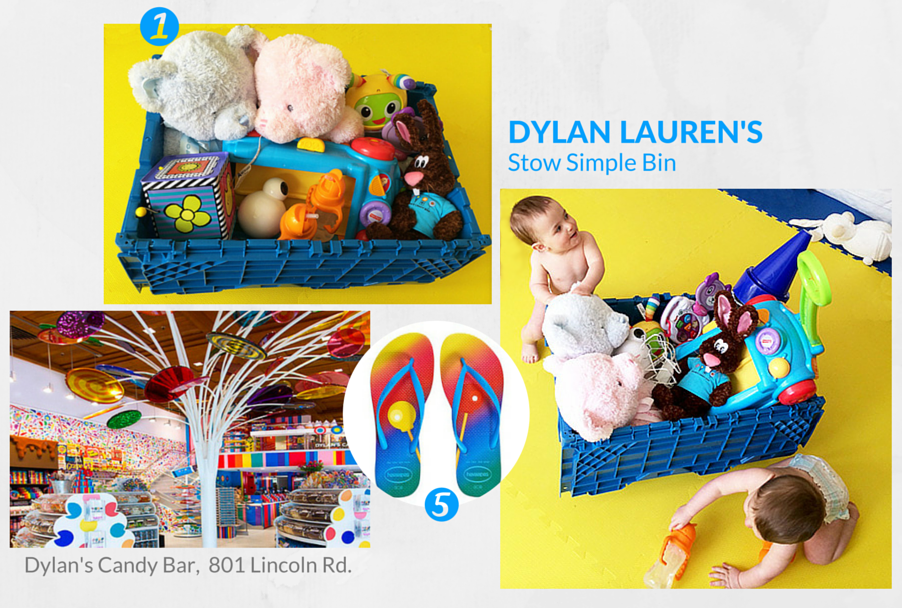 What's in Dylan's Stow Simple Bin:
Big Teddy Bears – I think they are called My First Bears. They are giant so not travel friendly. I'm glad I can store them in Miami and have them delivered. The smile on their faces when they see their bears is priceless.
iBaby Monitor – I use this to keep an eye on them when I am not in the room.
Aqua Jogging Belt and Workout Bands – I like to aqua jog, so I keep an aqua jogging bathing suit and belt with Stow Simple. I also keep workout bands. This way I can workout without having to go to the gym.
My First Learning – I also keep educational toys to keep the kids occupied. If I have a meeting they are great to keep them busy.
Dylan's Candy Bar Leggings and Havaianas Flip Flops – You can't come to Miami and not have flip flops. Our Dylan's Candy Bar leggings and flip flops are perfect for a relaxing day at the beach.
SC: Dylan's Candy Bar brings out the kid in all of us. Tell me the first childhood favorite that pops into your head when I say the following?
Cartoon
DL: Bugs Bunny
Cereal
DL: I'd mix together Raisin Bran, Pops and Honey Smacks.
SC: Ok, that's an interesting mix.
DL: Sometimes I'd mix in Mueslix too.
Toy
A pink stuffed bunny I named Coocoo.
Disney Movie
DL: Alice in Wonderland
SC: Knowing how creative you are that completely make sense. That movie scared me when I was a kid.
At  stowsimple.com, we post answers to "first date" type questions as a fun way for others to know us. Here are a few for you:
You are a lighting fast runner. What's the best song to run to?
DL: "Lose Yourself" (Eminem), "Bizarre Love Triangle" (New Order), "Hypnotize" (Notorious B.I.G.)
Do you have any bizarre talents?
DL: I never forget details. I have a keen almost photographic type memory. That and I can make these weird throat noises. What do you call that?
SC: I don't know. (Dylan proceeds to make odd throat noises.) You can stop now.
Favorite Restaurant Appetizer:
DL: Cheesecake Factory's Avocado Egg Rolls
Best compliment you have received:
DL: You're like the real Willy Wonka.
What motivates you to succeed?
DL: My name is on the door.
SC: Well said. Thank you for taking the time and being Stow Simple's first Urbin Story.
DL: I had fun. This is great. I'm proud to be a part of Stow Simple's and your success.
Written by: Silvia M. Camps