Summer is around the corner. For many college students, this means struggling to find cheap college storage and tackling finals at the same time. Hot and humid Miami summers add an additional challenge. How does one find affordable climate-controlled storage without long-term commitments?
Even if you make countless calls to find summer storage, inevitably there are multiple trips to buy boxes, and packing tape. Add the stress of finding a spacious car (and several friends) to lug your stuff, and no wonder there needs to be an easier way.
Several summers ago I faced a similar problem. I needed to move a bike and some boxes and had neither the vehicle nor the muscle power to do so. I also didn't have enough items to justify spending  $60-$100 a month for climate-controlled storage.
I vowed to find a simpler way. That's why with the help of my brother, Jorge, I created Stow Simple, the easiest way to store your things. With a call or click of a button, we'll pick up, store and redeliver your items right to your door. You can store as much or as little as you need. Only pay for the space you use. We'll securely store your things in our climate-controlled warehouse for as little as $25 a month.
Here's how it works: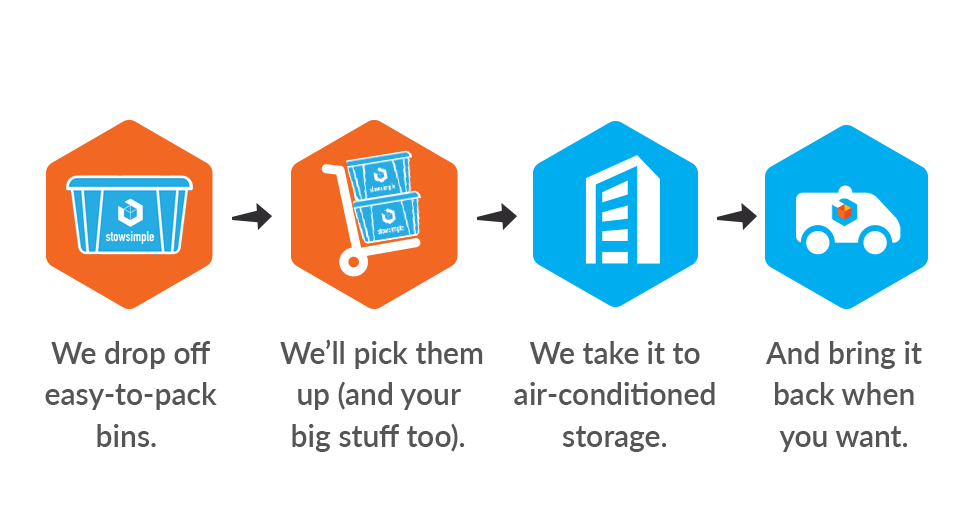 It's that easy. Think of us as your spare closet when you have little room to spare.
Besides being the most convenient and affordable storage in Miami, Stow Simple is also the highest rated. Don't take our word for it.  We've been independently rated tops by Three Best Rated, and hold 5-star ratings on Yelp, Google and Facebook.
When you return in the fall, we will return your items to your door. You can book your redelivery months in advance or in less than 24 hours by logging into your private account at stowsimple.com/login or calling (888) 544-6050.
This summer, don't stress over college storage. Stow Simple!